seating chart
www.imore.com
If you're heading to the Super Bowl this weekend, SB XLVI Guide will be your companion in your pocket. It's your guide to official Super Bowl events, a map of Indianapolis, a 3D map and seating chart to the Lucas Oil Stadium, and a reference for local restaurants and...
thenextweb.com
Business traveler Matthew Daimler launched SeatGuru more than a decade ago, having become frustrated at the vast differences between seating arrangements across airlines. In short, he was determined to collect this data and share it with other fussy travelers. The result? A single, color-coded interactive airplane seating chart. Green is...
thenextweb.com
It's been almost a year since SeatGuru first launched for iOS, letting travelers secure the best seats on their flights from their mobile device. And yesterday, the TripAdvisor-owned company quietly launched a brand new iOS app with a revamped design and additional photo features to help illustrate aircraft seat and...
www.engadget.com
How do you develop an OLED display that gives a 360-degree perspective? Toss six 1.25-inch panels into a plastic cube, then turn it as you see fit. That's an overly simplistic explanation for the six-sided display on hand at the MIT Media Lab today, which is quite limited in...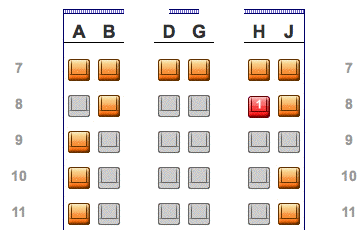 www.scripting.com
Here's a seating chart for Business Class on a weekday flight on American Airlines from JFK to SFO. Note that I've grabbed an aisle seat. The seat next to me is open. I'm hoping it stays that way. Also note that all the middle seats are taken, except for in...
techcrunch.com
If you've ever had to think about whether Uncle Phil (the one with the ear hair) should be sitting next to Aunt Clara (the one with the walker) or with the other guys at Frank's table ("Drunk" Frank), SocialTables has you covered. The site, recently relaunched with an entirely new...
×
Just a test of the new info bar. What do you think?